Actually Curious Card Game
Actually Curious Card Game
BUILD MEANINGFUL CONNECTION, with (literally) anyone! Kickstarter funded in FOUR Days.
STYLISH AND SLEEK 54 Cards Total (2 instruction cards, 15 Blue, 17 Green, 12 yellow, 8 red) in a box the size of a standard playing card deck. So you can take it everywhere.

ECO-FRIENDLY AND SOCIALLY CONSCIOUS: High quality production using ethical labor and paper supply practices

EXPERT AND COMMUNITY TESTED: Made with the advise and feedback of experts in the field of love and difficult conversations. Including researcher Arthur Aron and journalist Mandy Lee Catron, the two key people behind the NY Times viral sensation "the 36 Questions that lead to Love"

PERFECT FOR MANY SITUATIONS: Thoughtful anytime gift, Stocking Stuffer, Valentines Day, Office Gift, First (and 100th) Dates, Dinner Party, Family Gathering, Brainstorms, Anniversary Gift, Group Vacations, Corporate Retreats, Host Icebreaker, Socially Conscious, Under $25
Finally! A real tangible way to bring people closer together…
There are fours card stacks (blue, green, yellow and red).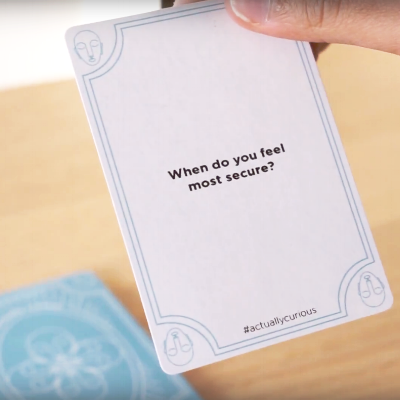 Questions that should be easy to ask a stranger.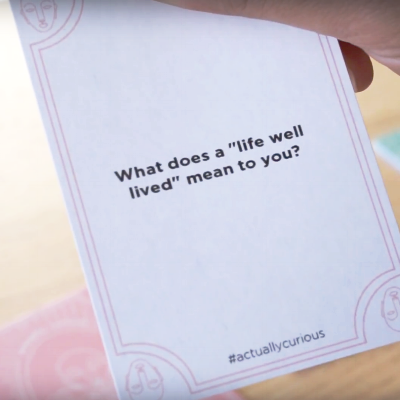 The intimate ones. Questions you might not have asked your best friend, family or intimate partners.
Each round, one player asks a question from a card that they select and everyone else gives their most honest and heart-felt answer.
While you can keep score, this game isn't about winning or losing. The Actually Curious game is about getting closer to the people around you… friends, family, lovers and even enemies we hope.
We believe transparency and empathy will lead to understanding and compassion, which to us is more meaningful than negotiation.
Get Actually Curious!